(COVINGTON, La.) — The 2010s were a revolutionary time for music. With music production becoming more available, many new genres and bands were born. Also, with the advent of music streaming services as Spotify, it became all the more easier to find those new bands and genres.
Before 2019, I was not that interested in music. It wasn't until late 2018 when I discovered the band King Gizzard and the Lizard Wizard that I became almost obsessed with music. In early 2019, I subscribed to Spotify, and with its fancy algorithms that tell me what music to listen to, I discovered most of the artists on this list. I hope reading this list will compel you to listen to a genre or band you never even knew existed.
In this list there is only one rule: one album per artist. I love King Gizzard and MGMT, but some other bands deserve the shine. Without further ado, here are my top ten albums of the 2010s.
Number 10: Good & Evil (Tally Hall)
Tally Hall is an interesting group. A band of five, each sporting a different color tie (and on hiatus since 2011), they are known for their catchy melodies and whimsical lyrics. Their second album, Good & Evil, released in 2011, has a much more mature and refined sound than their debut album, Marvin's Marvelous Mechanical Museum.
While MMMM's sound is much more playful and varied, Good & Evil is more relaxed and constant. The lyrics, however, still have a certain humor and wackiness, albeit much more serious than MMMM. If you are a fan of creative alternative-rock with songs about love, scarecrows, and the word "and," you will love Good & Evil.
Favorite track: "Never Meant to Know"
Number 9: Wide Awake! (Parquet Courts)
Wide Awake! is Parquet Courts' most stylized and politically charged album. Its sound mixes punk, post-punk, and, at times, funk. It is a stellar example of visual art and music combining to form a single coherent style. Its music perfectly embodies its early 20th century comic book style.
I think this style also goes perfectly with its political and anti-establishment lyrics dealing with issues such as climate change and class struggle. Wide Awake! is exciting and motivating, but also contains a certain anger behind it. It also deserves to be mentioned that the track "Mardi Gras Beads" has a beautiful music video filmed in New Orleans itself. Wide Awake! is a great addition to the Parquet Courts family, and is, in my opinion, their best album yet.
Favorite track: "Total Football"
Number 8: Life's Not Out to Get You (Neck Deep)
While punk is usually associated with anger and political change, which Life's Not Out to Get You has, it is ultimately an album about making your own happiness in life.
This album changed how I view life and how I find happiness. Its intense and harmonic pop-punk sound, combined with tales of heartbreak, anger, and sadness, and, ultimately, the realization that you have to go out and create your own happiness, the realization that "life's not out to get you," create an emotional experience that makes you want to go out and do something. It's a great album to listen to when you feel like you have lost everything, because Neck Deep reminds you that you have to keep fighting through life regardless.
Favorite track: "Gold Steps"
Number 7: Floral Shoppe (Macintosh Plus)
Macintosh Plus's Floral Shoppe created a genre: vaporwave. Vaporwave is a relatively new genre that takes old 80s songs, usually jazz or rock, and slows them down a lot. Artists also add effects, such as sudden cuts and loops, to give the effect of a broken tape player. The result is a calming, lo-fi, and strangely nostalgic experience. It almost sounds like elevator music.
Floral Shoppe laid the foundations for vaporwave, and is probably the genre's most well known album. I fondly remember the late nights playing Counter-Strike in 2015 with this album droning on in the background. Vaporwave also gave birth to other genres such as lo-fi hip hop. While most say vaporwave is dead, it still has a dedicated scene and the genres it paved way to are still very much alive, especially the aesthetic the genre created. There isn't much to say about this album except that it's really good, and certainly a piece of internet history.
Favorite track: "Lisa Frank 420 / Modern Computing," AKA "that vaporwave song"
Number 6: Currents (Tame Impala)
Probably the most well known name on this list, Tame Impala's Currents certainly deserves recognition. It is indicative of evolution and maturity in Tame Impala frontman Kevin Parker's sound, and what brought him to fame.
While it is a dance disco-esque album first and foremost, it has hints of psychedelia, seen in Parker's previous two albums. The album places much more emphasis on synth than guitars, with some songs being long and melodic, and others short and upbeat. It is amazing how great this album is for just chilling and doing homework, or getting up and dancing. It is certainly something you would hear in a nightclub, and Parker's songs about teenage love and insecurity are something almost everyone can relate to.
Favorite track: "Let it Happen"
Number 5: King of the Beach (Wavves)
King of the Beach, Wavves' third album, brings an intense surf punk sound with some psychedelia mixed in between. This album sounds like it belongs right in San Diego, with roaring waves, people skate-boarding all around, and that feeling of fun you can only find at the beach. While many songs feel energetic and rebellious, some, such as "Convertible Balloon," are slow but still put a smile on your face. King of the Beach is certainly a must for your next road trip (or surf session).
Favorite track: "King of the Beach"
Number 4: Schlagenheim (Black Midi)
Black Midi's debut album, Schlagenheim, is a discordant and strange math-rock masterpiece. I had been a fan of Black Midi for a few months before this album release, and the singles they released could have never prepared me for its crazed and deranged sound.
With some points soft, some points hard, some songs long, and some songs short, the only unifying factor in this album is chaos. Even with its irrational sound and alien vocals, the album is full of emotion and songs that you can jam to. It's surprising how much this album (and Black Midi) blew up when Schlagenheim released, and secured them a nomination for the Mercury prize. This album was a great establishment of their sound, and I know Black Midi's future is bright.
Favorite track: "Near DT, MI"
Number 3: Today (Babe Rainbow)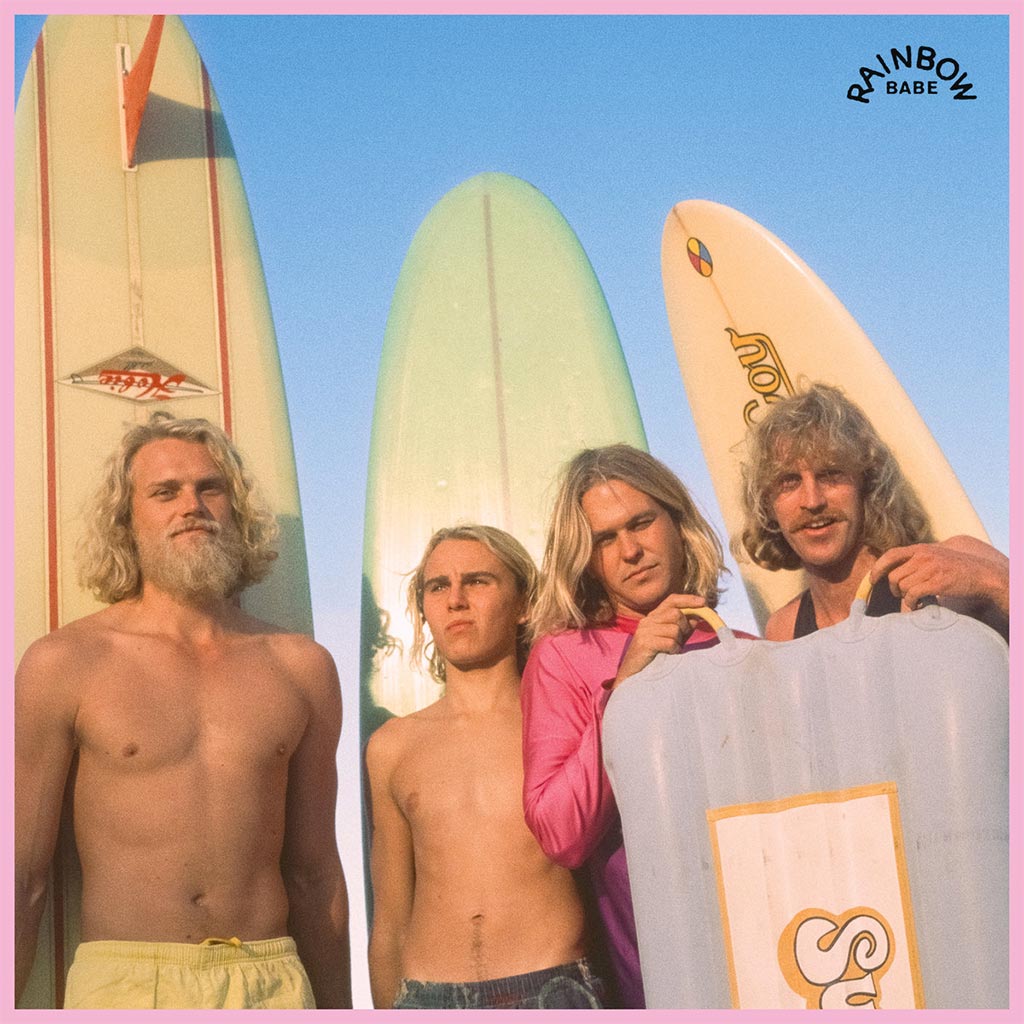 Babe Rainbow isn't a well known artist. They don't have a Wikipedia page, and barely anyone has reviewed their music, but you can't find their style anywhere else. Hailing from the southern coast of Australia, Babe Rainbow is the love-child of the hippie 60s. Their music is always soothing, vibrant, and happy.
Their third album, Today, strays a little from their two previous psych-folk albums by going a little more into funk and soul with some hints of early country. The album is structured to have the songs played throughout the day, with early songs like "Morning Song" and "Something New" possessing a distinct morning vibe, and later songs such as "Electrocuted" and "Many Moons of Love" going into heavy funk territory and emulating late night. Today embodies Babe Rainbow's hippie-ness and carefree nature.
Favorite track: "Morning Song"
Number 2: Congratulations (MGMT)
MGMT's psych-heavy sophomore album Congratulations is a welcome departure from the synth-pop they are known for from their debut album Oracular Spectacular. While Oracular Spectacular became an instant success with singles such as "Kids" and "Electric Feel," MGMT promised Congratulations would not become a radio-hit. They instead focused purely on themselves, creating an experimental album with a more dynamic psychedelic sound.
MGMT isn't afraid to use strange instruments here either- they employ instruments such as a pan flute, the omnichord, and an electric sitar all with majestic grace, making the sounds from one blend into the other. Each song's lyrics are MGMT's usual nonsense on the surface, but with a very, very, very deep message beneath them, which makes it great for multiple listening sessions. All in all, MGMT's Congratulations is surely their magnum opus, and probably the most influential psych-rock album of the decade.
Favorite track: "Brian Eno"
Number 1: Polygondwanaland (King Gizzard and the Lizard Wizard)
If you are a close friend of mine, this top pick shouldn't be a surprise. I have probably forced you to listen to this album more than once, and for good reason. Polygondwanaland remains King Gizzard's best album (with a few close contenders). The album was so good, the band released it for free. Free as in you could go out and press your own vinyls if you wanted to.
Polygondwanaland is King Gizzard's most technically impressive album, too, employing polyrhythms and strange time signatures. It is also their fourth out of five albums released in 2017. Each song has its own unique sound, yet all together give the feeling of adventure and excitement. "Adventure" is an important part of Polygondwanaland. The album tells a story, three stories, in fact.
The first is about a decaying castle, the second is about a group of migrants trying to find a new mystical land, and the third is about a failed revolution that eventually makes one of the insurgents a literal god. Each song smoothly transitions into the next, creating the feeling that each story is somehow connected and part of a bigger picture. You will certainly find a new riff or underlying vocal you haven't heard before in each listen. King Gizzard's Polygondwanaland is mysterious, mystical, and my favorite album of the 2010s.
Favorite track: Every single one
I wanted to end by giving my thanks to William James, class of 2018, for inspiring me to get out of my musical comfort zone and ultimately write this review. I read his reviews in eighth and ninth grade, and they certainly influenced my taste.